Lincoln Conspirator's Remains Buried In Seminole County
A Great-niece Had Lewis Powell's Skull Sent To Geneva From The Smithsonian Institution.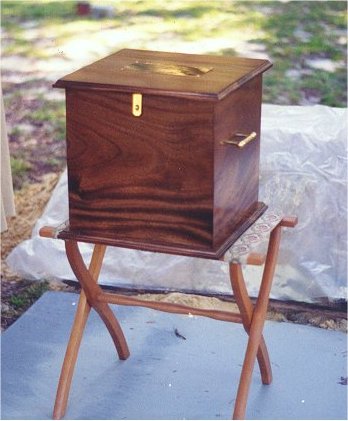 November 13, 1994 By Jim Robison of The Sentinel Staff
GENEVA — Helen Alderman was a young girl when she learned that her great-uncle was the Florida soldier executed on July 7, 1865, with three others who had conspired to assassinate President Abraham Lincoln.
On a sunny afternoon 129 years after Lewis Thornton Powell's death, Alderman, 72, and about two dozen friends, family and historians gathered Saturday under the shade of six cypress trees at a Geneva community cemetery to bury a small mahogany box and close the story of the Florida farm boy who joined John Wilkes Booth in one of the most notorious acts in American history.
''Never in my life did I realize I would one day have to prove my relationship to the Powells,'' Alderman said, trying to sum up her role in this odd twist of history.
The Smithsonian Institution, which in 1991 discovered the skull of the Florida rebel among thousands of Native American bones, recently released Powell's only known remains to Alderman after documenting that she was his closest living relative.
Soon after Lincoln historian Michael Kauffman found Alderman and told her of the Smithsonian's discovery, Alderman petitioned the museum to allow her to arrange for burial of the skull next to the grave of his mother, Caroline Patience Powell, in northeast Seminole County. Alderman called Saturday's funeral service a celebration of reuniting Powell with his family.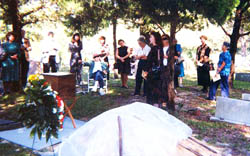 ''It's a closing for the family,'' she said. ''This has been hanging over the family for a long time. . . . I think he was just young and willing to take on anything that was worthwhile. . . . He was sent North to fight, and I think he was doing what he was told to do.''
Powell's casket, first buried near the gallows at a Washington arsenal but later moved to a cemetery in the capital, was removed in the early 1880s when the cemetery land was sold. Researchers believe a funeral home director kept the skull as a souvenir, later giving it to the army's medical museum. The army museum transferred the skull to the Smithsonian on May 7, 1898, where it was stored for nearly 100 years. Pictured above is Betty Ownsbey, Powell's biographer, speaking at his funeral. Powell's skull lies in a mahogany box lined with red velvet specially commissioned by Ownsbey.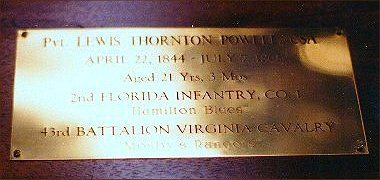 Saturday, Rev. Daryl Permenter Sr., pastor of the First Baptist Church of Oviedo, which was founded by Lewis Powell's father, George Powell, told the gathering that times have changed, but, ''Had I lived when he did, I probably would have done the same thing. War is war, and I believe he did what he did believing he was right.''
Just before his execution, Powell sent word to his family through his attorney, telling them he had made peace with God. The Rev. Abram Dunn Gillette, a Baptist minister who spent many of Powell's final hours with him, wrote that Powell broke down and cried for the first time since he was sentenced to die. The preacher wrote that the condemned man was overwhelmed by the grief he had brought on his mother and father.
''My course is run,'' Powell told Gillette. ''I know now how foolish, vain and wholly useless it is and must have been, and were I set at liberty this morning, I should hope to be dead by sunset, as all men must hereafter point at me as a murderer"
.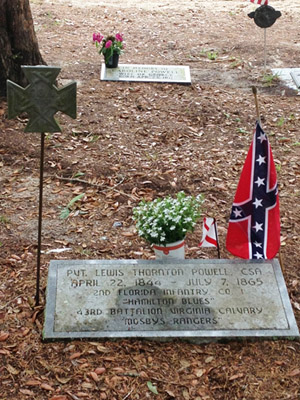 http://articles.orlandosentinel.com/1994-11-13/news/9411130118_1_powell-alderman-skull
BoothieBarn link to more photos of Powell's funeral.
All photos reproduced with the kind permission of Betty Ownsbey.
Left is Powell's grave, with his mother's grave directly behind.